Healthy eating
Eating a healthy, balanced diet is an important part of maintaining good health, and can help you feel your best. This means eating a wide variety of foods in the right proportions, and consuming the right amount of food and drink to achieve and maintain a healthy body weight.
Tips for a healthy diet
For a healthy diet it is important to:
Eat the right amount of calories for how active you are, so that you balance the energy you consume with the energy you use. If you eat or drink too much, you'll put on weight. If you eat and drink too little, you'll lose weight.
Eat a wide range of foods to ensure that you're getting a balanced diet and that your body is receiving all the nutrients it needs.
The NHS website lists eight practical tips on how we can make healthier food choices
NHS - 8 tips for healthy eating

Change 4 Life
Just one or two everyday swaps can really make a difference- download the Food Scanner and start swapping today. Also check out a range of healthy recipe ideas.
Read more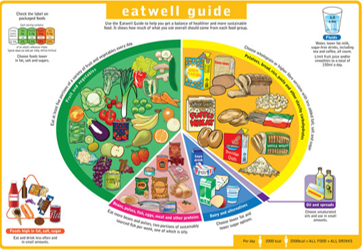 The Eatwell Guide
The Eatwell Guide shows the proportions in which different types of foods are needed to have a well-balanced and healthy diet.
Read more
Useful resources and information
Vitamin D during the coronavirus pandemic
Vitamin D continues to be in the spotlight during the pandemic. During local and national Covid-19 restrictions, people may have been getting less exposure to the sun than normal as outdoor activities have been limited. In autumn and winter the sun is weaker, so the only way to ensure we get sufficient vitamin D is to take a supplement. Food Active have published some useful advice, guidance and information to help keep you healthy during coronavirus.
Vitamin D Covid19 FoodActive Briefing update November 2020